The role of parents is constantly changing. Regardless of changes in society, the needs of children and family are always evolving and parents often find themselves at a loss for what their role should be.
As the founders of Raising Families, we've spent years helping families expand their understanding of the role of parents and what intentional parenting involves, including the transformation parents go through as their children mature.
Keeping an eye on the big picture of enabling our children to grow to become happy and caring adults, ready to fulfill their dreams is what we're all after. But that is much easier said than done. One of the important things we need to do is shift in our parenting role from that of teacher to coach to mentor.
The Role of Parents – 3 Overlapping Parts
Teachers
Starts the day your child is born
Establish a sense of safety/security/stability
Provide for basic needs like food/clothing/health when children are young
Teach skills and share knowledge
Verify your child understands and can demonstrate what they learn
Model family life and instill values, including the value and importance of always wanting to learn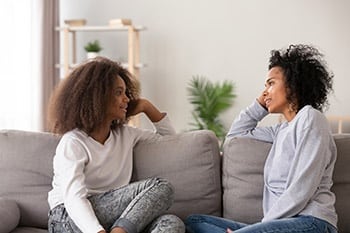 Coaches
Observe and assess knowledge and skills
Transition from Teacher to Coach one item at a time as soon as your child demonstrates a capability—can start when they begin to understand what we say (as early as one-year-old)
Create scenarios to practice skills and improve capabilities
Help ensure development stays on track by monitoring progress and taking action to help with shortcomings and increase strength
Mentors
Function as a trusted counselor who actively listens and observes without judgment
Transition from Coach to Mentor as soon as your child masters a capability or skill AND understands the consequences of their actions
Model behavior and share experiences, outcomes, and learning from experiences
Provide feedback when asked
Make recommendations but leave decisions and consequences of actions to the mentee
Transitioning Between Roles
We all start out as teachers. As our children get older, however, it becomes necessary to incorporate the coaching mentality and ultimately act as mentors. For us, the question is not "are we teachers, coaches, or mentors?" It's more about "when is the right time to make the transitions from teacher to coach and mentor while always being parents?"
When we start out with a bouncing bundle of joy, our primary focus is about providing a safe environment so that our children can move, grow, eat, and sleep. We are the ultimate caretaker tasked with attending to every need at every possible moment. That's the blessing of parenting a newborn.
Being Your Child's First Teacher:
From the time our children are born, as parents, we create a safe and caring environment, provide food, clothing, and shelter, and a ton of love! And, from that beginning, we teach them everything.
We talk with them, teach them expressions like smiling, do patty cake, help them crawl, teach them to use a spoon … the list is endless
At age one, children can start putting toys away
Between two and three, toddlers can make their own beds and help sort laundry
Between three and four, they can more easily dress themselves and start helping to prepare snacks
The list of things we teach our kids is endless!
Being Your Child's Coach:
Will they do things correctly every time? Of course not! For basic activities like these, however, you can become a coach by showing them how to complete a task, then ensure they follow through each time. You can always step in to help them do it better/safely, but the default response is to have them be primarily responsible for the action, not you!
And should they choose to not fulfill their responsibilities, holding them accountable is extremely important. To be clear, that does not mean punishment in the traditional sense. It means allowing them to experience the consequences of their choices.
Holding your child accountable for basic responsibilities, even at a very young age, will pay extraordinary dividends in the long term.
Here's an example: When your 10-year-old wants you to do something, like take them to an event or see a friend, do your first confirm that they've completed their responsibilities (cleaned their room, taken out trash, etc.)? If they've chosen to disregard what is asked by the family, you have no obligation to respond to their request for a ride!
If you consistently hold your position about responsibilities before fun or reasonable needs of the family before wants of the individual, your child will soon get the message. They'll complete their responsibilities before asking you for something they want.
Helping them learn about consequences is an important part of being a coach.
As your child gets older and closer to leaving home, it's time to transition into the mentor role.
You'll know they're ready for a mentor by observing the decisions they are making on their own and whether or not they understand the consequences of the decisions they make. If they do, time to mentor!
Even though the decisions won't always be the choices you might make, it's incredibly important they experience the consequences of their choices so long as they don't put themselves in harm's way.
Here's an example: Your teenager is out with friends. (You know who these friends are and where they went because you're already fulfilling the teaching and coaching roles.) They know they're expected home in time to eat dinner with the family. Whether or not they come home in time to eat is their decision. Not home in time, no dinner that night.
Here's an example: Your teenager has schoolwork, chores, and other activities that all require time management. Have you sat down with them to show them your planner and explain how you manage your time? Do they have their own planner? If yes, then let them figure out what works best for them. There might be some late nights early on, but over time your child will learn what works and what doesn't when creating a schedule that works for them.
Allowing your child to figure things out on their own helps to strengthen the sense of trust that is so critical between parents and children.
Teach, coach, and mentor … the role of parents involves all three titles so that our children can become happy, caring, and capable adults.
Elane received a Mother's Day card from one of her daughters that said, "the first 40 years are the hardest." How true! You now have some strategies and a few additional resources to make them and the rest of your parenting journey a little easier.
01 | Explore the Printables Library:
Our printables library is filled with must-have activity ideas, checklists, guides, and workbooks.
02 | Subscribe to Our Newsletter:
Sign up for our newsletter for parenting tips to help you create the family team you've always wanted.
Rick Stephens is a co-founder of Raising Families. With 33 years of experience as a top-level executive at The Boeing Company and having raised four children of his own, he is able to support parents and grandparents by incorporating his knowledge of business, leadership, and complex systems into the family setting. In his "free time" Rick enjoys road biking, scuba diving, visiting his grandkids, and generally trying to figure out which time zone he's in this week. Read full bio >>